For many years, Spain has been a top real estate choice for Brits.
With ludicrous amounts of sunshine (even through the winter) in regions like the Costa Blanca, it's a Mecca for all those looking to escape the winter blues, brush up on their Spanish, hike or bike through the awe-inspiring mountain ranges, or mooch on the beach for weeks at a time.

Considering Spain's popularity is there such a thing as too much growth?
When considering the prospects of "new developments Spain", it's imperative to carefully analyse the market. The appeal of the country has meant rapid growth in development and, as in most cases, when growth is mismanaged, it can lead to inefficient town planning. Unscrupulous developers exploit the natural surroundings to their region's ruinous end. And unfortunately there are parts of Spain that have earned a reputation for excessive high-risers and garish nightlife, a fate from which the Costa Blanca North has been gratefully spared. For those searching for "new developments Spain" it becomes evident that in northern Costa Blanca, property development and growth has happened at a far more natural place and in a more organic way.
Investing in a cosmopolitan town that still retains a quintessentially Spanish feel
For those looking to invest in an inherently valuable part of Spain, towns like Calpe and Denia on the Costa Blanca are wise choices. Through the careful preservation of the natural surroundings and old historic towns lining the coast, the region's integrity has remained intact and so the value of the property and land continues to be a dream for risk-averse investors.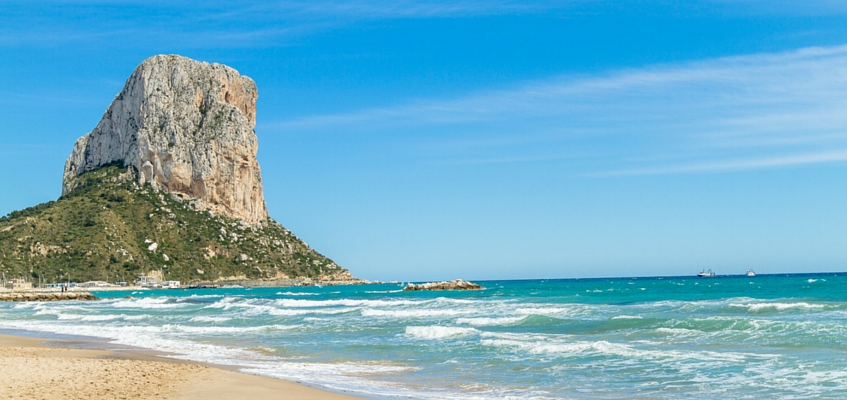 Why the Costa Blanca north is rife with opportunity:
The region is located among the mountains along a sparkling stretch of coast so from a scenic point of view, it's glorious.

There are plenty of options in the way of charming towns: Calpe, Javea, and Denia offer layers of history and culture to explore.

An interesting article on Property Finders goes on a fact-finding mission to analyse the Spanish market as objectively as possible. One reason it suggests that the property market has become so enticing for foreign buyers is because of the local economic crisis, rendering about 28% of the population unemployed. It goes on to explain that "even those in secure employment are not able to take advantage of greatly reduced property prices as the banks restrictive lending policies are making it virtually impossible for Spaniards to get a mortgage." With the purchasing power of the Spaniards limited, opportunities in the local property market are more open to foreign buyers. Knowledge about these sorts of new developments Spain are invaluable for the keen investor.

The article goes on to note that in places like "Denia, el Arenal beach in Calpe and La Granadella beach in Javea there is strong demand from the overseas market and figures suggest that prices in these prime areas touched bottom in 2013 and will not fall further, if anything, sellers are starting to dig their heels in and shortage of quality stock in the right places is likely to be more of an issue in 2015."

The buying power of foreigners has been substantially enhanced by the strong pound against the euro.

The tourism market is booming. Investors who have done their homework know that this means great returns on buy-to-let properties. Examining the local market in the above-mentioned article, writer Diego Sabater explains that, "Spain broke its previous all-time high tourism record with another one in 2014, estimated at € 63.5-million, and about 20% of all visitors head for the Costa Blanca." You don't have to be a mathematician to work out the promising returns that accompany the luck of owning one of the gorgeous Calpe apartments.
Recent financial figures cited in a report show that Spanish property prices "increased by 2.65% in the first quarter of 2015" while "residential home sales increased 9.05%". Altogether, the data reveals an exciting time for the Spanish property market, particularly on the east coast, with the only real worry being the possibility of demand outstripping quality supply.
To find out more about top properties on the Costa Blanca, new developments Spain, and investment opportunities in Calpe apartments, contact Grupo Esmeralda, leaders in the local real estate market.
FILL THE FORM
We will answer in the following 24h