It's an excellent time for Brits to buy holiday homes in Spain; Spain stands out for its powerful combination of value for money, spectacular scenery and, of course, its incredible climate.
With a mild, frequently sunny winter, Spain's coastline is the perfect opposite of cold, wet British winters, making it a top holiday destination for Brits. When considering this choice from an investment perspective, its popularity with holidaymakers guarantees high rental demand year round, making paying off your mortgage an easy undertaking.
So, where's the best place to buy a holiday home in Spain? Take a look at some of the best places below.
Where is the Best Place to Buy a Holiday Home in Spain?
If you're wondering where to buy a holiday home in Spain, some destinations stand out. Out of all the wonderful Spanish coastal regions, we've ranked Costa Brava, Costa Dorada, Costa del Azahar, Costa Cálida and Costa del Sol as five places where foreigners should (and do!) purchase holiday homes in Spain.
However, make sure to pay special attention to Costa Blanca and Calpe, a truly unbeatable location.
Costa Brava
Are you looking for proximity to home as you figure out the best place to invest in real estate in Spain? Costa Brava is the coastal region geographically closest to the UK. Just south of the French border, it's an excellent option for those that have an affinity for travelling to France. Salvador Dalí is from Figueres, a nearby city, and Dalí himself gained inspiration from the region's azure water and rolling, pine-lined hills.

If you'd love the option of spending time in both France and Spain, Costa Brava is where you should buy a holiday home in Spain. It also offers a plethora of golf courses, nature reserves, ski slopes, playgrounds and beautiful beaches for you and your family to enjoy.
Costa Dorada
This well-preserved stretch of coast is just south of Barcelona and has many natural wonders. If your family enjoys nature and the outdoors, they'll enjoy spending time at the Ebro River Delta, an estuarine sanctuary which attracts millions of birds to its waters every winter. Brits adamant about escaping dreary weather at home tend to buy holiday homes in this area of Spain because of its mild, pleasant winters.
The Spanish coast stretching from the Costa Dorada to the Costa del Sol gets 300 days of sunshine a year. Nature guarantees that you won't have to worry about bad weather.
Costa del Azahar
Costa del Azahar is the coastal region south of the Costa Dorada that encompasses all the towns in Castellón province. Despite the region's similarities to the Costa Blanca, there are not many holiday homes in this area; this area is ideal for families looking for a quieter retreat with fewer disturbances from vast droves of tourists.
There are many sandy beaches with little development and acres of orange and olive trees to immerse yourself in nature while enjoying a relaxing getaway.
Costa Cálida
Well-named for its year round warm temperatures, Murcia's Costa Cálida stretches for 250 km along the Mediterranean coast and is an extremely popular destination for tourists. The area boasts many golf courses and major cities like Cartagena and Mazarrón.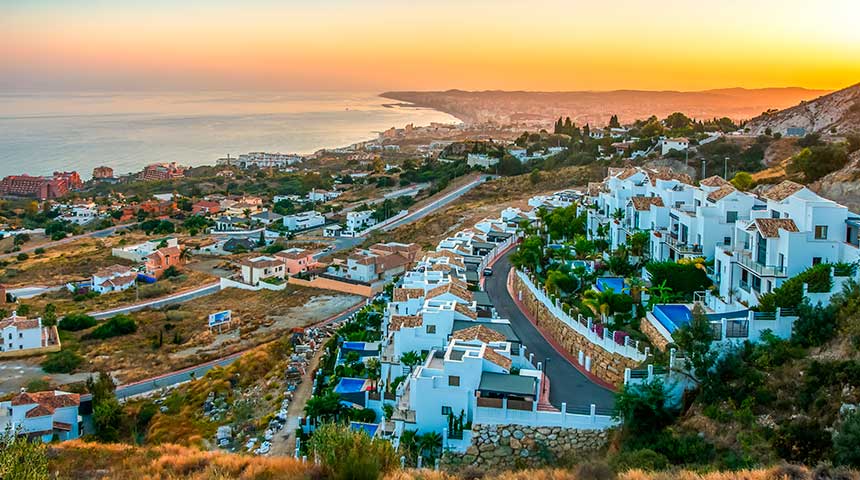 Costa del Sol
Like Costa Blanca, Costa del Sol has the ideal infrastructure for families seeking a getaway while enjoying the comforts of city life. The region's largest city, Málaga (one of the largest in all of Spain), offers many museums and amenities that you'd expect from a world-class urban centre. Nature lovers have mountain biking within easy access, as well as skiing at Spain's best mountain resort, the Sierra Nevada, only two hours away.
The Costa del Sol is also a fantastic destination for holiday homes to buy in Spain if you're a history buff, as the inland areas just outside of Málaga are a treasure trove for ancient Greek, Roman and Moorish culture enthusiasts.
Costa Blanca
Now, these five locations are great choices for anyone looking to invest in a second or holiday home, but Costa Blanca and Calpe offer something truly unmatched. Costa Blanca is one of Spain's most popular coastal regions. It is close to both Alicante and Valencia, giving residents in its coastal towns easy access to city attractions like cinemas, restaurants, concert halls and theme parks.
The area is also home to nature reserves full of coastal caves, waterfalls and rock-rimmed inlets, creating the perfect setting for parents that relish in seeing their children experience nature's delights. Costa Blanca, and specifically Calpe, is an excellent spot for divers, surfers, yachtsmen and watersports enthusiasts.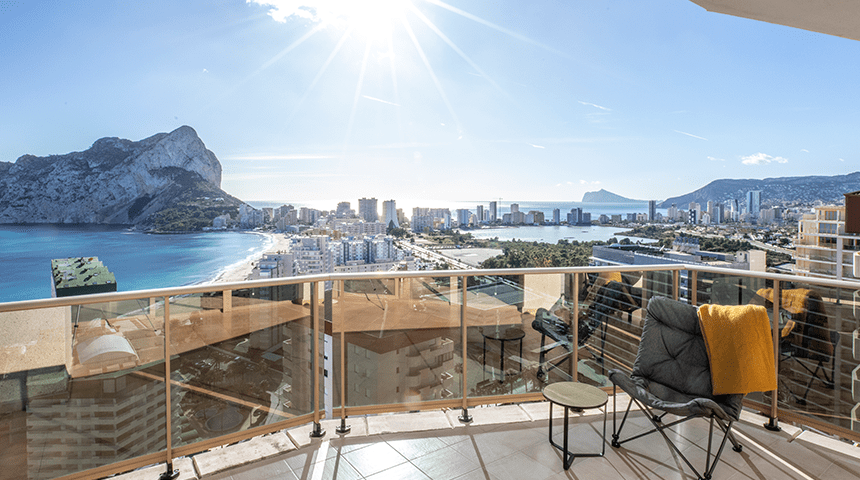 Calpe
Here are just a few of the reasons why Calpe is a fantastic place for your holiday home in Spain:
Vibrant expat community: Calpe is home to a large number of expats, especially Brits. You can have the perfect mix of Spanish and the comforts of home in one place.
Weather: Calpe boasts over 300 sunny days a year and mild winters.
Landscapes: Calpe has everything for everyone; there are mountains, beaches and a city centre right at your fingertips.
Accessibility: Located just one hour from Alicante's airport, Calpe is well-connected to the UK.
There's no shortage of enticing options and destinations for buying your holiday home in Spain. If you're excited about purchasing the holiday home of your dreams, we suggest you look at our villas in Calpe on Costa Blanca. It's an incredible mix of old-world charm and modern convenience that is ideal for family-orientated holidays.
FILL THE FORM
We will answer in the following 24h