As a retiree you've got your heart set on relocating to Spain and living your golden years in a beckoning Mediterranean climate with a marvellous environment along with first class amenities.
By now, you've probably realised that Spain offers an unrivalled balance between comfort, security and affordability.
Before getting to the fine print of buying property in Spain and finally decorating your dream home, you need to decide what kind of property best suits your budget and lifestyle. Living in quiet luxury on the outskirts of the city or being in the centre of urban hustle-bustle can be of equal pleasure depending on your personal preferences. To help you choose, we've compiled a list of the most attractive housing options so you can make the most of your retirement.
1) Apartments
If you fancy a lock-up-and-go lifestyle, then we recommend buying an apartment. Apartments remain the most popular living choice amongst Spaniards and in most cases, you'll be able to find a suitable home no matter the size of your budget.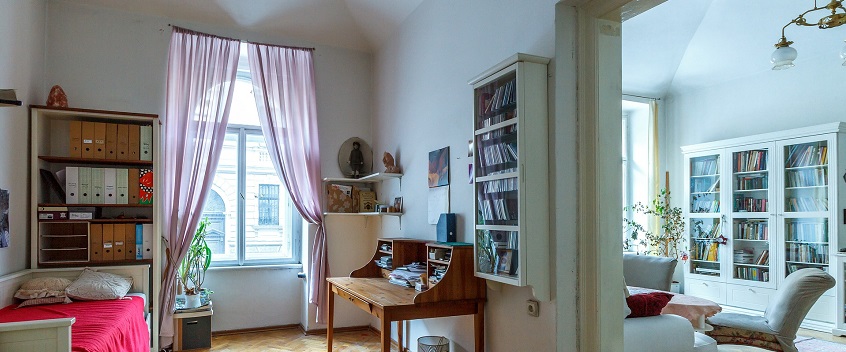 Image Credit: pixabay.com
A basic one-bedroom apartment costs approximately €80, 000, while the starting price of a luxury apartment on Marebella's exquisite golden mile is around €1, 000, 000. If you're open to buying property in Spain that requires some renovation, then it's possible to purchase an apartment at a bargain price.
Keep in mind that after initial refurbishments, your apartment's overall maintenance will remain low. An apartment is an ideal choice if you're looking for a home that's easy to maintain and don't mind sharing a communal garden and pool. You'll also have the added benefit of access to local facilities and amenities within walking distance.
2) Townhouses
To the Spanish, townhouses are known as casa adosadas. The wonderful thing about this type of property is that it embodies the convenience of apartment living with the luxury of space. Unlike apartments, townhouses have between three to four floors and include a garage at basement level and a roof area. They are typically situated in rows and in coastal resorts are whitewashed or painted in hues of yellow and blue commonly know as the Mediterraneo style.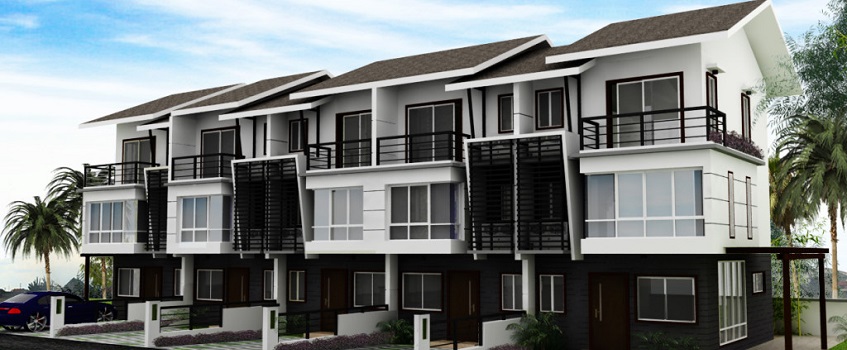 Image Credit: mahoganyplace
For a one-bedroom townhouse in a less popular area you'll pay about €100, 000 and for a three-bedroom in an area in high demand, you're looking at starting price of at least €750, 000. While you might be further away from the centre of town, you'll still enjoy the benefits of having a home with low maintenance costs, as well as community living but with less neighbours and noise than the city centre.
3) Villas
If you're buying property in Spain and have your sights set on living in a villa, then you have the option of living in a complex or on individual grounds. Bear in mind that many villa's built in the 60's and 70's need extensive renovation, but that newer properties are of excellent build quality and are at least two storeys high. In popular areas Villa's cost over € 1, 000, 000, but if you're happy to scale down it's possible to find slightly smaller ones around €200, 000.
4) Country Properties
Buying property in Spain, especially on the coast, can be extremely pricey. If you're searching for a more affordable option then we'd recommend purchasing a finca further inland. In Spanish, finca is a general term referring to abodes ranging from rustic dwellings to large farmhouses.
While you might be further away from the sea, you'll enjoy having a larger plot of land with picturesque orchards and olive groves. Almost all fincas are cheaper than resort properties and are widely available. The only potential downside is that renovations are a must unless you're comfortable with paying a premium on a property that's already been refurbished.
Deciding on your type of home is the first step to soaking up in the sun during your retirement. If you're buying property in Spain, then you're probably looking for expert advice on navigating the Spanish property market. For further guidance on tax and banking to aid you during the purchasing process, why not take a look at our portfolio of property in Calpe.
FILL THE FORM
We will answer in the following 24h