Lifestyle buyers and investors took a big step back from property (especially the foreign market) during the recession. Prices plummeted and the market crashed – it makes sense that everyone lost their faith in real estate.
However, now that things are on the up, Britons are once again keeping the pulse on the property market abroad, and one of the most popular destinations once more is definitely Spain. With much better weather than in the UK (not that it's difficult to beat), food that can only be described with superlatives, incredible landscapes and reasonable prices – it really is no surprise that Spain has captured the attention of British buyers once more. Understanding why Spain is a prime destination is not rocket science, but the challenge comes in when trying to determine where exactly to buy a holiday home in Spain when there are so many options. To help you in this process, we have narrowed it down to our top suggestions of where to buy a holiday home in Spain:
Costa del Sol
This incredible coast certainly draws in the foreign investors and with the direct translation of 'Costa del Sol' being the 'Coast of the Sun' can you really blame them? With great infrastructure, dazzling shores, and the town of Malaga a mere hour and a half's drive (with ample shops, museums and restaurants) it's quite easy to see how people would look here when buying a holiday home in Spain. For those that enjoy the outdoors there is much in the way of mountain biking trails, watersports, and a two-hour drive will get you to the incredible mountain resort of Sierra Nevada where you can ski during the winter. For those that enjoy history, the areas surrounding Malaga have an interesting past influenced by the Greeks, Romans and Moors.
Costa Brava
Really not wanting to look too far for a holiday home in Spain, then the Costa Brava, the closest of the coasts to the UK, will be perfect for you. A convenient two-hour flight will get you straight to Barcelona, with the dramatic shores of the Costa Brava being a short drive away. Visitors who come here have the choice of activities from lazing on beautiful beaches, to making the most of the golf courses, nature reserves or ski slopes. And as an added bonus, with it being so close to the border, quick and regular trips to France are a must. If that is not enough to sell you on this wild and wonderful place, the Costa Brava was also home to one of the most incredible Surrealist artists in the world; Salvador Dali. Beauty, culture, history, sunshine, sea, and ample outdoor activities – what more could you want?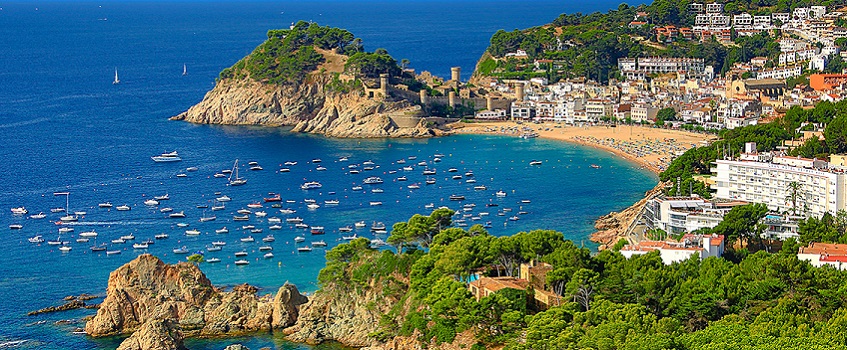 Costa Dorada
Another stretch of unspoiled coast – the Costa Dorada – is also a short distance from Barcelona and is a treasure trove of natural wonders, such as the estuarine sanctuary known as the Ebro River Delta where thousands of birds populate the waters in the winter. And with over 300 days of sunshine a year, the birds are not the only ones to flock to warmer shores come winter. And the great news is here you can still get a bargain when it comes to property, based on the fact that this coast is still considered one of the 'lesser known' (for now). If small, charming, traditional Spanish towns where you can still get good value for money are more your vibe than the more cosmopolitan cities, then this is the stretch of coast for you.
Costa Blanca
The white sandy stretches of incredible coast along the Costa Blanca are very popular options for those looking for everything that could possibly want in one place. The area's infrastructure is incredible and allows for easy access; two international airports, ample bus and rail options and an abundance of taxis all make it very easy to get around. If you are looking for a family holiday home in Spain that will delight all your family members this is definitely where you should be looking. From attractions like movies, theme parks, shopping centres and concert halls in the bigger cities (such as Alicante) to watersports and outdoor excursions (think birdwatching at salt mines and exploring caves) – there is a wealth of things to do here. If you are looking for a place that really has it all (including a great community of expats) then the old fishing town of Calpe is a sensational option.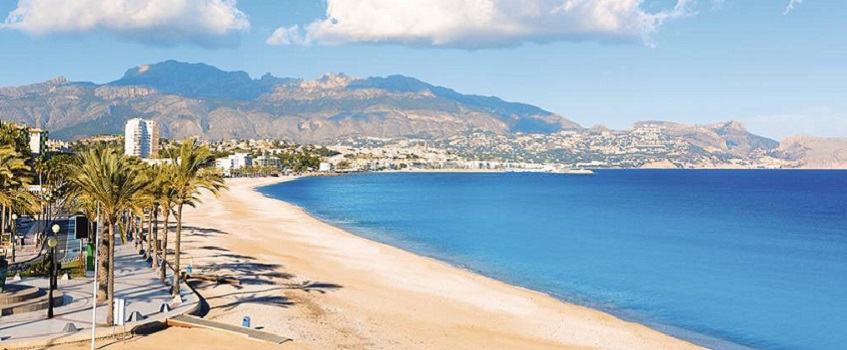 Image Credit: thomson
For additional recommendations for places to buy a holiday home in Spain, for more information about buying property in Spain in general, or to find out more about property in Calpe in particular, contact us.
FILL THE FORM
We will answer in the following 24h