The old adage "If you want something done right, do it yourself" may not strictly apply to DIY fanatics, but there is some truth to it, especially when it comes to your new property purchase; I'm sure you are going to want to try your hand at DIYing it up first. There is something about owning a holiday home that somehow just brings out the inner handyman in all of us.
A holiday house is a precious investment; it's often a place that really was bought with the family in mind, and while getting someone in to do the handy work, or buying your furniture from the nearest Ikea is certainly easier, it's nowhere near as fulfilling as doing it yourself. What might start as a solo venture, could become a family project, and an incredible way to bond with your kids or your wife. So, let your inner do-it-yourself expert run wild with some of this DIY advice for your holiday home.
Start with the basics:
When you first buy a holiday home, and start moving things in, chances are you will have to do a couple of basic touch ups around the house. This DIY advice relates to some of these basics which may include:
Noisy door hinges: there is nothing more common (and more annoying) than squeaky door hinges. Rub some petroleum jelly on the hinges and swing the door back and forth a couple of times to ensure the jelly gets where it needs to.
Jammed sliding windows: according to this article, "A little silicone spray lubricant (sold at hardware stores) will grease the skids. Spray it onto a rag, then wipe along the tracks, whether they're metal, wood, or plastic."


Peeling wallpaper: one of the best bits of DIY advice, is this handy little trick to keep wall paper down. You take a knife and apply wallpaper paste to a sheet of normal paper. The sheet is then used to put the paste onto the underside of the raised wallpaper, and then pasted back onto the wall. Slide out the normal paper from underneath, and smooth out any bubbles in the wallpaper with a cloth.
Noisy floor: a surprising bit of DIY advice, used to to stop floors from squeaking, is to sprinkle some talcum powder on the floor board and then sweep it into the cracks.
Drab paint: this DIY job is one for the whole family! There is nothing better than a new coat of paint on walls that are looking worse for wear. We are not suggesting painting over cracks or peeling paint (because this is a serious no-no), but those walls that are looking drab. Or if you are satisfied with the overall paint job of the house, how about adding a splash of colour to a room by painting one of the walls? Bold colours are the most effective, and the good news? It won't take very long to do!
Revive grout: does your holiday home have mouldy, old or discoloured grout? Perhaps consider removing it completely and starting again, this article has an in depth guide for how to do exactly that!
Move on to the fun stuff:
Once you have fixed all the little things in the house, it's time to delve into your creative side and just enjoy the process. Take our DIY advice, these are some of the best projects you can do: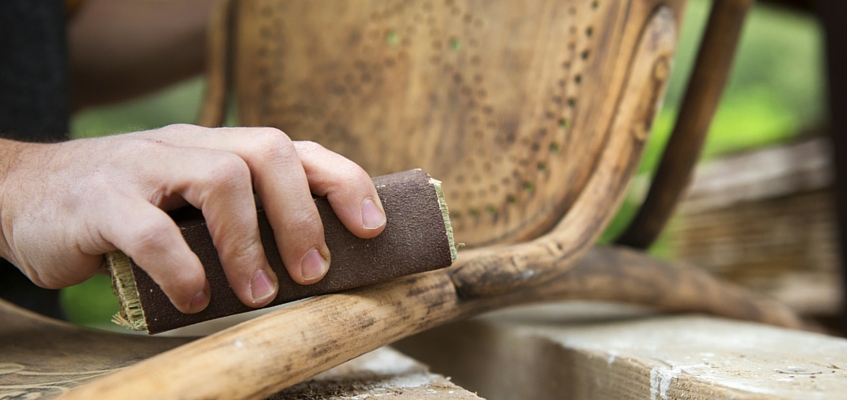 Upcycle old furniture: not sure what to do with some old furniture and just want to throw it out? Don't! See how you can make the most of your old furniture by upcycling it. Here are some great ideas.
Build a stylish coffee table: a personal favourite is making an effective and gorgeous coffee table out of a pallet. Find an old pallet, clean it and sand it down. Then you can decide if you want to keep the essential shape, or take out all the nails and redo it the way you would like it. Once you have constructed your table, give it a good few coats of varnish, attach the legs/wheels and voilà! Click here for more pallete table inspiration and here for more detailed instructions.
Make a chalkboard: with the invent of chalkboard paint, the choice for fun, quirky chalkboards is endless — in fact, you can turn any surface you can paint into a chalk board. Paint a old piece of wood for a chalkboard you hang up for a handy place to write a shopping list or leave messages for the kids, or paint the inside of a cabinet for the same use. If you are feeling really generous, you could even paint a whole section of a wall to let kids draw to their hearts' content.
Never mind the paper, take your pen to the furniture: what might seem as a little bit of an 'out there' idea, is to zhuzh up old furniture and cushions by drawing on them with a sharpie and a ruler, much like designer Michael Garvey did here. It's both an easy and effective way for sprucing up some old favourites.
Use mason jars for… almost anything
Tired of kids' rooms looking like a tornado went through them? Use mason jars to organise toys, playdough, arts and crafts supplies among many other uses. They can be painted, connected onto a piece of wood with metal jar holders to create an organised system, or just stored cleverly. There is no end to what mason jars can be used for. Find some inspiration here.
Add some extras to your toolbox
Toolboxes are seldom 'complete', there is always some sort of niche tool that you are still missing, but if you have the basics (hammer, a set of screwdrivers and pliers, or for a more concise list visit this page you are well on your way. But, these days, there is something else you need for your toolbox: DIY apps for DIY advice on the go. These are some of our top picks:
iFixit — this app is the perfect IOS app for DIY advice for the busy dad, with free guides on how to fix "anything".
Houzz — perfect for either inspiration or DIY advice, this wonderful (and beautiful) app is has been deemed the "Wikipedia of Interior Design". According to this article (<hyperlink to:http://www.tomsguide.com/us/pictures-story/651-best-home-improvement-apps.html>) the app is perfect for "...DIY ideas, design inspiration, interesting pieces of furniture or simply want to get in touch with local professionals or talented amateurs, Houzz has something for you."


ColorSmart BEHR Mobile — with this app, you are able to get an idea of how colours will look on your walls before you actually paint them, which will save time going to the store for swatches (or trying a colour that just doesn't work!).
Snapguide — this visually pleasing IOS app focuses around crowd-sourced 'how to' guides for myriad of different projects.
ihandy Carpenter — another IOS app, this time this handy app turns into a tool itself, helping with measurements and surface levels.
Need some more inspiration?
Pinterest is a treasure trove for DIY ideas when you are looking for a little inspiration and your creative side is eager to come out. Check out some awesome ideas here.

So excited to start DIYing that you need to find yourself a wonderful holiday home to work on? Look no further than the gorgeous coastal town of Calpe, where you and the family can zip down to the beach during DIY breaks, or lounge by your gorgeous new pool. Contact us to explore our diverse portfolio of properties for sale in Costa Blanca, where you are sure to find the perfect holiday home for you and your family.
FILL THE FORM
We will answer in the following 24h