On the brink of retirement, newfound freedom may pique your spirit of adventure.
If that's the case, wipe out your wondering over what to do in retirement and journey to some of the world's greatest golf courses for the rounds of your life. Borrowing some wisdom from Golf Digest, we bring you a small sampling of the world's greatest courses.
Pine Valley, U.S.A
Par: 70
The expert's description: "Pine Valley blends all three schools of golf design -- penal, heroic and strategic -- through the course, often times on a single hole."
Royal County Down, Northern Ireland
Par: 71
The expert's description: "On a clear spring day, with Dundrum Bay to the east, the Mountains of Mourne to the south and gorse-covered dunes in golden bloom, there is no lovelier place in golf… Though the greens are surprisingly flat, as if to compensate for the rugged terrain and numerous blind shots, bunkers are a definite highlight, most with arched eyebrows of dense marram grasses and impenetrable clumps of heather."
The Old Course at St. Andrews, Scotland
Par: 72
The expert's description: "The Old Course at St. Andrews is ground zero for all golf architecture. Every course designed since has either been in response to one or more of its features, or in reaction against it. Architects either favor the Old Course's blind shots or detest them, either embrace St. Andrew's enormous greens or consider them a waste of turf."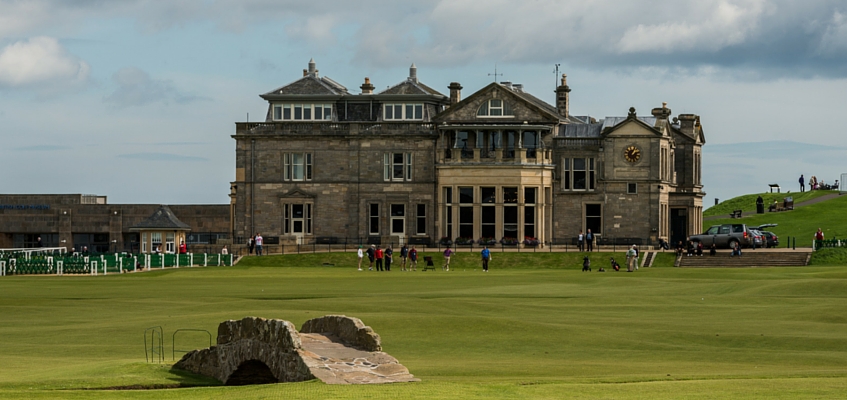 Hirono G.C, Japan
Par: 72
The expert's description: "The finest design of globetrotting C.H. Alison… He laid out Hirono in the early 1930s in a hilly pine forest slashed by gulleys, clearing wide corridors and positioning greens on the crests of ridges. What makes Hirono special was Alison's spectacular bunkering, which ranged from diagonal cross bunkers, fearsome carry bunkers and strings of ragged-edged ones."
Pebble Beach, U.S.A
Par: 72
The expert's description: "Alister MacKenzie's masterpiece, woven through cypress, sand dunes and jagged coastline. In the 2000s… a former USGA president who christened Cypress Point as the Sistine Chapel of golf, convinced the club not to combat technology by adding new back tees, but instead make a statement by celebrating its original architecture. So Cypress remains timeless."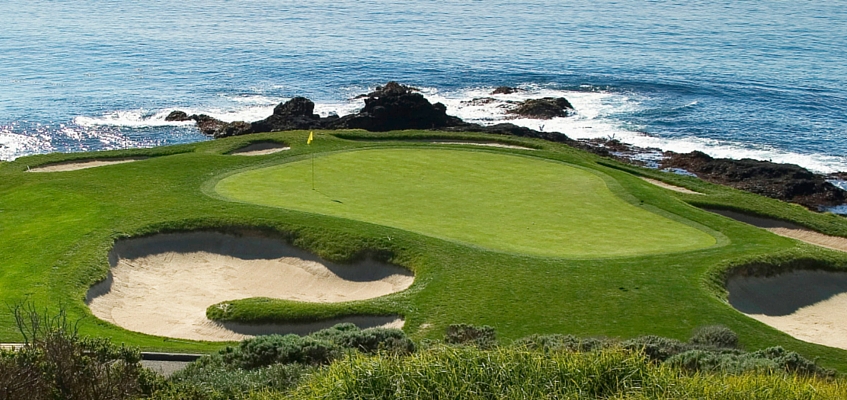 Golf de Morfontaine, France
Par: 70
The expert's description: "A timeless 1927 design north of Paris by British architect Tom Simpson, Morfontaine looks suspiciously like a heathland course around London, with windswept Scotch pines and clumps of heather atop a base of sand."
The Links at Fancourt, South Africa
Par: 73
"Created by Gary Player and then associate Phil Jacobs from a dead flat airfield, over 760,000 cubic yards of earth were churned and piled to create the first faux links in South Africa… They used cool-season grasses to promote bounce-and-roll on their topsy-turvy fairways. Greens, mostly long and thin or wide and shallow, are guarded by revetted pot bunkers."
Valderrama G.C., Spain
Par: 71
The expert's description: "Valderrama was a favourite design of the late architect Robert Trent Jones. His tight, twisting fairways, pinched at every turn by squat olive trees, led to surprisingly small putting surfaces protected by Trent's trademark splashy bunkers."
Whether you're a single digit handicap or an amatuer on the fairway, golfing naturally comes to mind when wondering what to do in retirement. A frustrating day on the course may have you thinking, like John Feinstein, that golf is nothing but "a good walk spoiled", but when you're getting those birdies and walking on some of the most beautiful fairways in the world, golf doesn't seem like a half-bad way to wile away the hours.
With several picturesque courses in and around the Costa Blanca, the region is a retiring golfer's dream, and an easy solution to the question of what to do in retirement. This beautiful stretch of Spanish coastline, and Calpe in particular, offers the perfect balance of modern comforts and old-fashioned Spanish. If you're interested in investing in one of the highly in-demand apartments or villas in Calpe to solve the problem of what to do in retirement, get in touch with us about our extensive portfolio of quality property and villas in Calpe.
FILL THE FORM
We will answer in the following 24h